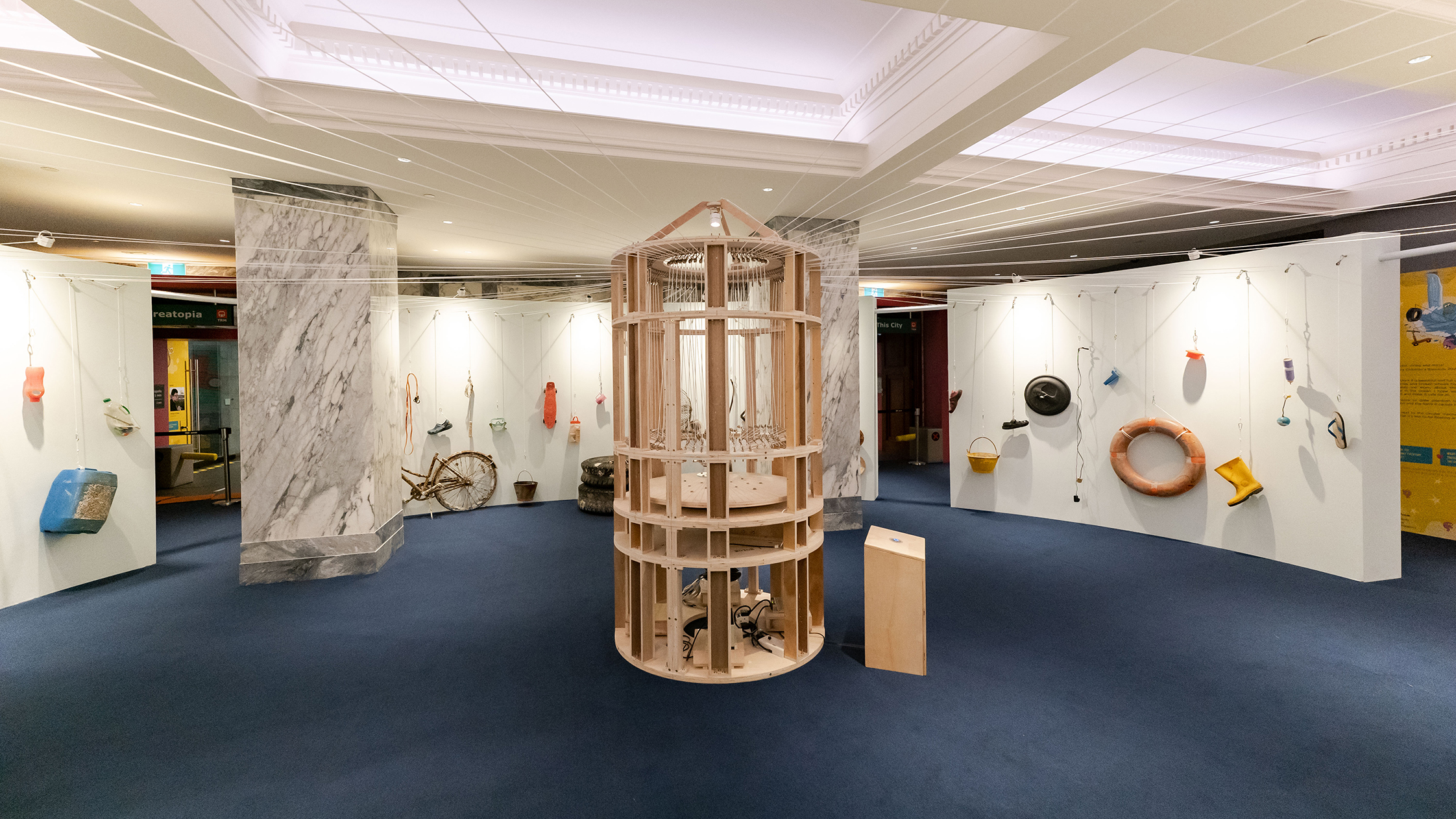 "Tide" (潮), 2023, Dimension 9400 x 7200 cm, Materials: marine debris, wood, motor, strings
"Tide" is an immersive kinetic installation inspired by the movement of tide – the rise and fall of sea levels caused by gravitational pull of the moon and sun. Tides are very long-period waves that move through the oceans. When we allow trash to fall from our hands to land then to sea, we allow them to travel around the world on ocean currents by which no beach is untouchable no matter how remote it is. Being an island city-state, Singapore is especially vulnerable in the marine-ecosystem when the ocean is being trashed globally.
Simulating the movement of the tide, "Tide" brings attention to the issue of traveling trash, for which we are the problem and also the solution. The installation uses mostly recycled materials, and marine debris collected from the coastlines of Singapore, including East Coast, Sembawang, Changi, Pasir Ris Park, Kranji, Sungei Pandan, Seletar North Link, Lim Chu Kang and Pulau Ubin. Compositing these found pollutants with visual and sound, the installation takes on the continuous action of On and Off, highlighting the circular trajectory – a notion of totality – forming the ecosystem in which we are all a part of.
Ruobing has embarked on the research of art and marine ecosystem since 2011. Along this 10-year journey, she would like to thank the organisations including International Coastal Cleanup Singapore, Nature Society (Singapore), National Park Singapore (NParks), Our Singapore Reefs, Waterways Watch Society, and many individuals including Andrew Tay, Joseph Lai, Dr Karenne Tun, Ng Juat Ying, Dr Shawn Lum, Sam Sq, Sivasothi (aka Otterman), Tan Beng Chiak, Sam Shuqin, just to name a few, for their support and advice.
This work is a commission of National Gallery Singapore. It has been also supported in part by the NTU Centre for Contemporary Art Singapore, a national research centre of the Nanyang Technological University. 
Special thanks to Singapore's environmental group Our Singapore Reefs, for their effort in keeping our sea clean, and contributing the marine debris for the installation.